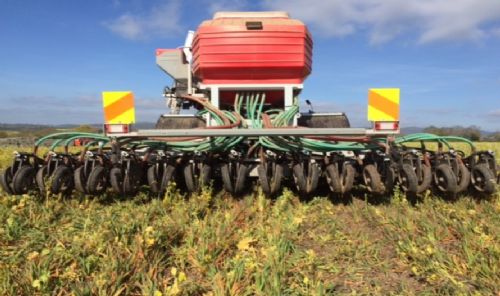 FWAG SE, South East Water and Wheatsheaf Farming invite you to an important event, to introduce you to the inhabitants of the soil in your fields.
Cover cropping is increasing in popularity on farms in the UK, and has the potential to bring multiple benefits in terms of soil health and improved water quality. Cover crops also have the potential to increase the populations of these beneficial soil invertebrates, with obvious benefits to the farmer.
The keynote speaker will be Sally-Ann Spence, a Fellow of the Royal Entomological Society and the Linnaean Society and an Honorary Associate of the Oxford University Museum of Natural History. She specialises in dung beetles and is a co-founder of the UK Dung Beetle Mapping Project (DUMP).
Tuesday 28th January 2020
Folly Farm (cover crop plots) and then at The Warren Centre
09:00 Arrival at Folly Farm: registration, coffee and biscuits
09:30 Introduction & welcome: Tim Clarke (FWAG SE) and David Miller (Wheatsheaf) 09:45 Tour of cover crops with monitoring in place
10:45 Travel to The Warren Centre
11:00 South East Water and Catchment Sensitive Farming update: Mark Slater (CSF) 11:15 Reduced N inputs on WW - results from 2019: David Miller (Wheatsheaf)
11:30 Farming beneficial insects and the ASSIST trials: Julian Gold (The Hendred Estate) 11:45 Beneficial Insects in Arable Fields: Sally-Ann Spence
12:45 Discussion and Summary
13:00 Lunch and Depart
The cover crop demonstration plots are at Folly Farm, North Waltham RG25 2BS. Please ensure that you bring suitable boots & outdoor clothing.
The indoor session is at The Warren Centre, Warren Corner, Micheldever Station SO21 3AR.
Sally Ann Spence is an active researcher, specialising in land management, biodiversity and ecosystem func- tioning. She travels extensively around the UK collecting invertebrate data whilst studying the diverse agricultural systems that she encounters.
Julian Gold is Farm Manager at The Hendred Estate and was named Soil Farmer of the Year 2019. His is one of 18 farms who are taking part in the ASSIST trials, co-run by the Centre for Ecology and Hydrology (CEH).
David Miller, host farmer and Nuffield scholar, is a passionate advocate for regenerative arable farming BASIS and NRoSO points will be available
This event is free, but please book here
Or if you would prefer, please book by contacting Tim Clarke on 07713 333196 or email: timothyclarke55@gmail.com