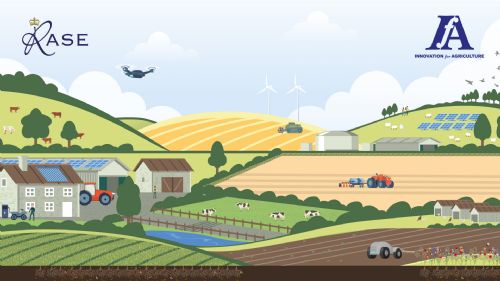 Delivered by Innovation for Agriculture (IfA), in partnership with RASE and Harper Adams University, the Farm of the Future: Net Zero in Practice event will provide a unique opportunity to gather information and ideas on how to decarbonise your farm business.
The event will showcase the latest research, technology and thinking around decarbonisation. It will be a chance to see new and emerging technologies and to hear from leading farmers on how they plan to decarbonise their businesses.
Lord Deben will present the opening address, which will be followed by farmer presentations, discussions and technical sessions, providing a multitude of ideas to take home.
There will be three technical breakout sessions, of which delegates will choose two. The session options are:
Decarbonising livestock production – led by Jude Capper, this session will look at how improvements to breeding, feeding and health management can reduce your carbon footprint
Circular solutions for biowastes clean energy, nutrients and future fuels – the session will discuss and demonstrate how farming businesses can better use nutrients, move away from reliance on red diesel and generate clean energy
Autonomous vehicles and robotics – this session will include a unique chance to see driverless vehicles from the Hands Free Hectare project in action and hear how this technology is delivering high levels of accuracy and efficiency on farm
Taking place at Harper Adams University on 13th April 2023, the event is free to attend and will include refreshments and a light lunch. Registration will commence at 08:30 and the day will conclude by 16:30.
Click here to register your interest

Download Event Programme
Latest News About This Event