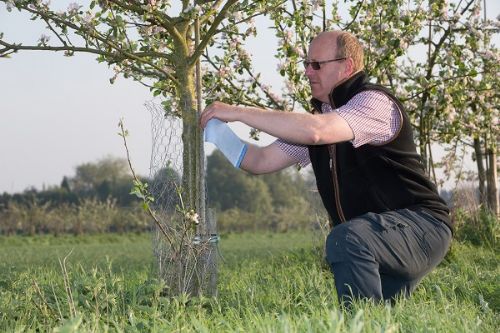 Are you interested in how incorporating trees into an arable system could increase farm resilience and profitability?
The Farm of the Future Agroforestry event will include a farm walk led by Stephen Briggs, a farmer, consultant and soils specialist, who studies agroforestry around the world and pioneered large scale silvoarable apple production on his own farm in Cambridgeshire.
Stephen will share how the introduction of apple trees is reducing soil erosion, making the most of sunlight and diversifying farm income. He'll cover the reasons behind his decision to invest in an agroforestry system, the practicalities of managing arable crops and trees in the same space and the impact so far for his farm business.
The event will take place from 10am to 3pm at Stephen's farm near Peterborough and will include lunch in the farm shop.
The RASE Farm of the Future events are delivered by IfA to help farmers navigate routes to net zero by changing farm practices and demonstrating farming systems. This event is supported by the Esmée Fairbairn trust and places are free of charge for farmers to attend.
Sign up here to book your place at the event, or contact Deborah Crossan at deborahc@i4agri.org with any questions.